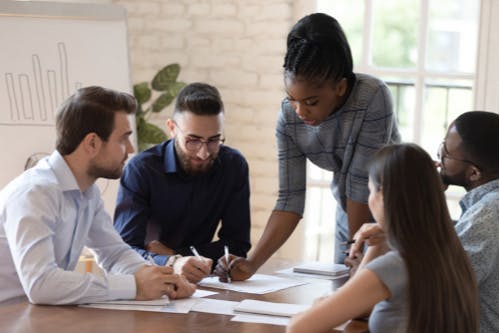 Your company is privy to an exceptional team of talented individuals when you work with EBS. Your success is determined by the ability of each individual to work together in harmony in order to achieve your desired result.
Our passion for this business leads us to explore solutions that deliver results ahead of the typical market trends. Let us help propel your organization to be "best of breed" as well.
Your team includes:
Client Advisor: Get practical solutions that help you manage your menu of benefits, keep apprised of emerging benefits trends that keep you competitive, and safeguard your liability when it comes to compliance.
Benefits Coordinator: This is the team member who works behind the scenes on the day-to-day needs of your business - from quote requests or bids on health plans to spreadsheet preparation, proposal creation, faxing and filing.
Client Care Specialist: Works to address all employee health benefits issues; for example, enrollment, termination, and claim issues. Also processes enrollments, acts as a liaison to insurance carriers and answers questions relating to pertinent federal and state legislation.